The healthcare industry faced unprecedented struggles over the last year, which resulted in some pain points as well as breakthrough innovations in technology that changed the landscape forever. The industry is continuing to evolve at a rapid pace – here are a few areas to keep your eye on.
Provider Burnout and Physician Shortages   
A recent Becker's report from AMN Healthcare surveying 551 healthcare executives1 showed that physician and nurse shortages, financial pressures, and government regulations are the top disruptive forces healthcare organizations currently face and will likely continue to struggle with for the next three years. 82% of respondents said that filling executive positions remains challenging. Insufficient staffing, workload, and emotional toll were the main reasons healthcare professionals who stated they were considering leaving the industry cited.
The New York Times reported that nursing homes have seen a significant decrease in occupancy and admissions, as many families are opting to take elderly relatives out of these long-term care facilities after the high mortality rate during the early months of the pandemic. In addition, a downturn in visits for elective procedures and non-urgent medical issues during the pandemic hit the industry. Moving forward, many organizations are focusing on catching up on elective procedures as a main strategy.
(38% C-level, 9% Vice Presidents, and 53% Directors and Managers)

The Importance of Telehealth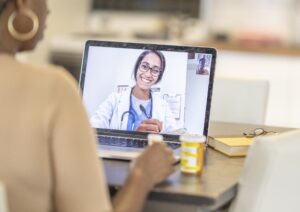 Like many non-healthcare businesses that transitioned to a remote workforce in 2020, healthcare underwent a major transformation. Telehealth, already increasing in popularity before the Covid-19 pandemic, became essential over the last year. By minimizing the number of patients in medical facilities, exposure to the virus was reduced, while practitioners were still able to provide necessary care to patients. The CDC reported that telehealth visits during the last week of March 2020  increased by 154%, compared with the same period in 2019.
And it is here to stay! According to the AMN report, only 12 percent of healthcare-focused organizations expect to completely leave remote work in 2021, placing high importance on telehealth management and citing it as the skill healthcare executives will need to develop the most in 2021.
Artificial Intelligence in Healthcare
AI is no longer a future concept. The technology is being implemented in rapidly increasing numbers, and the healthcare industry is no exception. "Deep Medicine," as AI in healthcare is commonly referred to, uses machine-learning algorithms to analyze complex medical data and present insights to healthcare providers. In addition, it can be used to automate administrative tasks such as record maintenance or obtaining insurance pre-authorization – ultimately easing workloads and saving time and money. AI in healthcare is projected to grow at an annualized 48% by 2023.
The largest recent example proving this prediction to be on track would be Microsoft's recent acquisition of Nuance Communications, a leader in speech to text software, for $19.7 billion. This was the second-largest purchase by Microsoft ever, only surpassed by the $26.2 billion the company paid for LinkedIn in 2016. Nuance's Dragon software uses deep learning – a type of machine learning modeled on the human brain – to adapt to a user's voice, and its accuracy improves over time. Nuance's other products in the healthcare segment include Dragon Ambient experience, Dragon Medical One, and PowerScribe One for radiology reporting.
"By augmenting the Microsoft Cloud for Healthcare with Nuance's solutions, as well as the benefit of Nuance's expertise and relationships with EHR systems providers, Microsoft will be better able to empower healthcare providers through the power of ambient clinical intelligence and other Microsoft cloud services." – Microsoft (Press release, April 2021)
"Nuance provides the AI layer at the healthcare point of delivery and is a pioneer in the real-world application of enterprise AI," said Microsoft CEO Satya Nadella. "AI is technology's most important priority, and healthcare is its most urgent application. Together, with our partner ecosystem, we will put advanced AI solutions into the hands of professionals everywhere to drive better decision-making and create more meaningful connections as we accelerate the growth of Microsoft Cloud in Healthcare and Nuance."
Internet of Medical Things
AI technology also enables patients to take a more active role in their health. Wearable tech such as smartwatches and fitness trackers that monitor activities such as heart rate, respiratory rates, and sleep patterns can assist in the early detection of medical issues as well as aid care providers in tracking follow-up progress. The global internet-of-medical-things (IoMT) market is estimated to reach $254.2 billion by 2026.  

CPaaS 
In a past blog, we covered how healthcare organizations are using CPaaS (Communications Platform as a Service) technology to enhance their patient experience and free employees from administrative tasks. These turn-key, HIPAA compliant solutions can be deployed over the top of any system. CPaaS technology is cloud-based and makes omnichannel communications (messaging, voice, and video) possible, allowing for features such as giving  patients the ability to text instead of calling for things like scheduling, changing, and confirming appointments. It allows assists providers with tasks like post-treatment check-ins and appointment follow-ups.
This innovation has had significant benefits to the healthcare industry, especially during the pandemic, when in-person appointments were kept to a minimum and facilities were bombarded with an influx of inquiries. Additionally, CPaaS technology made applications such as notification alerts, contact tracing, and vaccine administration possible.
Clinical Mobility 
Clinical mobility solutions are continuously evolving, helping healthcare organizations and hospitals improve the quality of patient care by eliminating manual procedures and user errors, increasing accuracy, and streamlining processes. Real-time data capture and transmission can not only improve the caregiver and patient experience, but save lives as well.
According to Zebra Technologies' 2022 HOSPITAL VISION STUDY, by 2022, 97% of nurses will use mobile devices at the bedside, 67% of nurse managers credit clinical mobility with improving staff communication and collaboration, and 72% of respondents cite improved quality of patient care as a direct result of clinical mobility. In addition, 61% of hospitals surveyed reported a reduction in medication administration errors and 52% cited decreased specimen collection labeling errors.
Real-Time Location Systems (RTLS) applications help streamline hospital operations and prevent loss of equipment and supplies, as well as increase patient security by tracking the geographic location of assets such as wheelchairs, heart monitors, and medications.
Increased use of mobile devices improves care for both the provider and patient; however, it also presents additional security concerns and requires policies to ensure compatibility, security, proper uses, and be HIPAA Compliant. As of 2017, only 65% of hospitals had a mobile device policy.
In addition to meeting growing security concerns, mobile devices in the healthcare field must support operation with gloved hands, scan accurately, and be able to withstand repeated cleaning and disinfection to eliminate the potential spread of bacteria and viruses. For these reasons, healthcare-specific mobile devices are required. Industry leaders like Zebra Technologies are continuously innovating to not only meet these requirements, but go far beyond standard machine-to-machine communications.
What's Next?
Incorporating the use of these ever-advancing technologies within the healthcare segment allows care providers to better interact with their patients, increases efficiency, and improves accuracy. It also empowers patients to take a more active role in their health. There have been many exciting breakthroughs in medical technology, and we are only at the beginning!
Altura Communication Solutions is here to assist you with your healthcare communication solution needs. Speak to an account manager today.